Blog
Community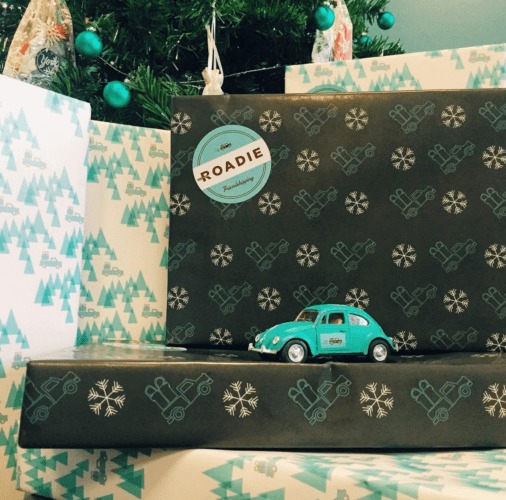 As 2015 comes to a close, we can't help but think how awesome the past month (and year!) has been on this Roadie ride. With the holidays in tow, we've had a bigger month than ever delivering gifts right to your door.
From donuts to donations to dining tables, check out some of the coolest stuff we delivered with Roadie this month.
Send Anything With Roadie
1. Some Like It Saucy
When Causey Foods, an Atlanta BBQ sauce company, needed to get 14 cases of sauce to their largest retailer more than 140 miles away, Wynn decided to try Roadie for the first time. 
The cases of BBQ sauce were picked up by Peter the same day at a local Waffle House, where Wynn and her kids were able to enjoy some #FreeWaffleLove before heading back home.  Not only did Roadie save her money in shipping, but we also helped her grow her business by keeping customers stocked and happy.
2. Giving Back to Toys for Tots
With the season of giving upon us, we're not surprised when some of our Senders use Roadie to donate to their local charities. After buying more than ten toys online for Toys for Tots, Kathie enlisted Roadie to deliver them to her local drop-off site. Doing good without the cost or the hassle! 
3. Justin's Christmas Tree

With two weeks left before Christmas, Justin finally found the time to stop at a local tree lot
and buy the perfect tree for his fifth-floor studio apartment.
He posted his Christmas tree Gig at 9:30 that night just as his neighbor Earl was heading home from work in his mini van. Within five minutes, he met Justin at the Christmas tree lot to pick it up and deliver it to his apartment, and by 10p.m., Justin was sipping on eggnog and decorating his tree.
4. When You Forget Your Keys at 2AM
Ashley found herself in a bind when she locked herself out of her house and her husband had the only set of keys that could help. She set up a gig at 2AM to pick up the keys from her husband's office at Scottish Rite hospital in Atlanta and had the keys delivered to Conyers — 30 miles away — before the sun rose that morning. Not only did we help Ashley get out of a bind, but also we did it in the middle of the night! 
5. Fraternity Brothers For Life (And Yes, They Lift Bro)
Scott needed a dissembled Bowflex sent from his house in Fishers, IN to his brother Matt in Alpharetta, GA.  James offered on the gig on December 2nd noting that he could pick up the equipment on December 12th and deliver it 560 miles the next day.
When James got there, he, Scott, and Scott's brother Matt all realized they were in the same fraternity, Sigma Chi, and exchanged old stories before James got back on the road.