Blog
Community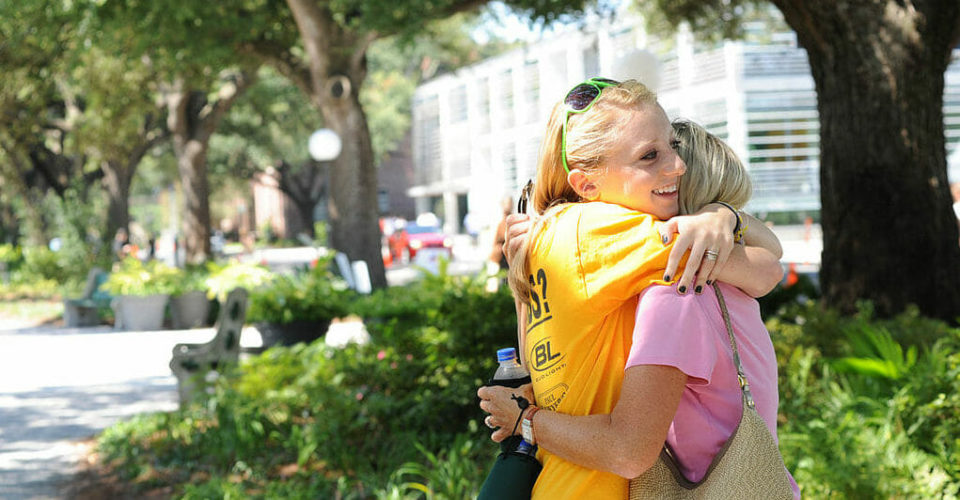 After 18 years, the big day has finally come. You and your kids have prepared for College Move-In Day for months, if not years. They landed their dream school, scheduled classes, and found a roommate. But sometimes, the last hurdle of moving out proves to be the hardest.
College Move-In Day tends to be hectic, stressful, and emotionally draining. You're trying to move everything in within your specified time window, while also making the time to say your goodbyes.
Send Anything With Roadie
And while it's time for the kids to grow up, parents can still help them with this last step. Here are 5 ways parents can make moving to college easier for everyone.
Make Storage and Shipping Easy
No matter if you're flying or driving, moving to college means boxes and boxes of your kids' stuff. Furniture, clothing, mini refrigerators, and futons — not all of it can fit in your sedan. That's why people turn to a college moving company for an extra pair of hands.
And while some college movers only service a small number of campuses, Roadie has nearly 50,000 drivers nationwide to help your kids with moving out. We'll pick up and deliver for you — real-time tracking, coverage up to $10,000, and no packaging required. That means less time to worry about shipping hassles and more time hanging out with your college student.
Organize, Organize, Organize
Take stock of the dorm room and its dimensions. You'll want to know where to put the futon, TV, and mini-fridge before college move-in day. There is nothing worse than a hot dorm room with four sweaty people rearranging the furniture.
Take advantage of The Container Store and Target. Their bins, wheeled suitcases, and trunks are your friends. Organize clothes in them beforehand, so you can simply put it in a drawer when you get to the dorm room. And remember, get creative when trying to find extra storage space — your kid will need it. 
Limit Who Comes to Campus
 Packing six people into a couple cars is one thing. But herding six people around a dorm with thousands of other families? Now, that's another. Moving into a dorm room is chaos. Dorms are small and hallways are cramped. And as much people like to think they're college movers, make sure to limit the number of people who tag along.. 
Check the Website for College Move-In Policies
Each campus has specific rules and policies for college move-in day. Make sure to check out their website beforehand. Between arrival slots, check-in procedures, and unloading zones, universities will happily outline what you need to know before arriving on campus. You can also schedule college movers, like Roadie, to deliver furniture or clothes later, if it's more convenient for you and your college student.
Bring Cleaning Supplies and Command Hooks
 Never underestimate a strong command hook. Since campuses forbid drilling holes, command hooks let you hang decorations or closet organizers without ruining walls. Most parents only invest in a handful, but trust us, you'll want as many as you can get.
And don't forget, many dorm rooms aren't well cleaned. Cleaning wipes, stain remover, and trash bags will help you make the dorm spiffy and keep the clutter out.